VSEP/SLE/Atii Home
Atii Sled Dogs
Dog Sled Rides

Winter 2009-2010 Update

Skijoring

Educational Programs

Everything But A Ride

Why No Rides In The Dog Sled?

Join Us This Season


Rates for Rides
Skijoring Lessons
Skijoring Rates
Equipment
Educational Programs
About Us
FAQ
Atii Sponsors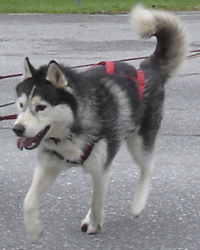 Laska nearing the end of a dryland gig run October 2005.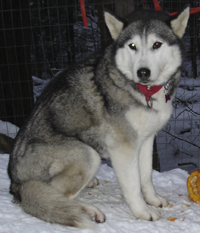 Murron on top of her doghouse with some Halloween pumpkin.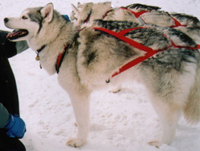 Dawson trying out lead.

Weasel napping in the house.

Woody, the show ring champion who "screams" to go, when the team stops for a rest.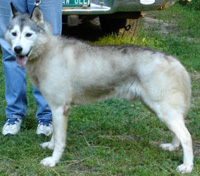 Dolby at 12, retired but ready to stud.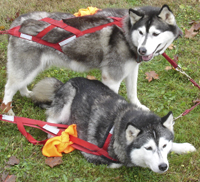 Frankie (standing) and Flip (lying down) after a fall gig run.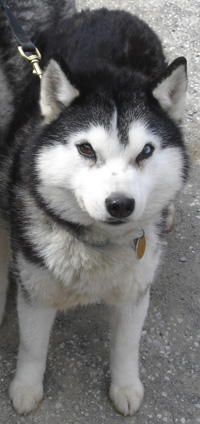 Ilyaga, the little engine that could.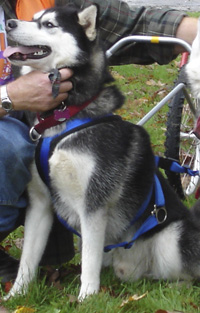 Preston, after a Sacco Cart run.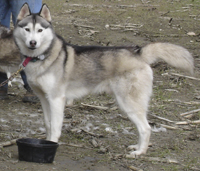 Elias, still trying to figure it out.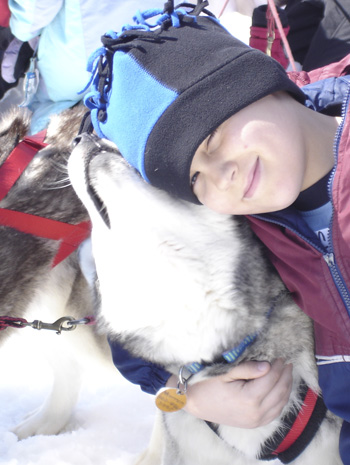 December 20, 2009
Seasons Greetings from Atii Sled Dogs!
This is lengthy reading, but gives the answers to the questions about what we can and cannot offer this winter. Things have not been going according to plan for us. That has resulted in tough decisions and adjustments in what we can offer for this winter—but the good news is that we do have offerings. More good news: Mother Nature, Jack Frost, Old Man Winter and Ulyr have been providing the snow and cold to develop the good base Atii Sled Dogs needs for safely running on natural snow trails this winter. At this point in time, due to a series of unfortunate events since last spring, we cannot offer rides in the dog sled, but we can offer everything except the ride itself. Details follow below.
Winter Update For The 2009-2010 Season
SKIJORING

• We will definitely be offering skijoring lessons for the skilled, intermediate or better level, x-c skiers who come with their own "pulling" dog. This is for folks who want to learn how to train their dog(s) to do this sport or are just beginning to do this sport.

• The rates remain the same.

• Reservations including a completed form are required. Advance booking is required. The online form contains questions about your dog(s) as well as the human(s). Red will be skijoring with one of our dogs who will help teach your dog. (Our dog "models" for your dog as you all go on the trail together after the instructions and introductory portion of your lesson.)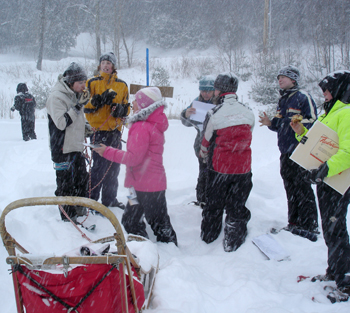 • We will also definitely continue to offer our educational programs for schools, libraries, scouting groups, winter festivals, resorts and other public groups. (Gail is a former school teacher who has expanded her "classroom".)
Special Opportunity!
Feb. 7 & 8, 2010 Educator Workshop
on Winter-Themed Adventure Learning
(Non-Flash Version)

• We will post the public events we're scheduled to be at so you can take a trip from the Valley to visit us there.

• Our programs are tailored for all ages, attention spans and special interests. Q&A time is always included. Programs may be indoors, outdoors or a combination of both. We always bring one dog or more and various gear and equipment (based on the setting, weather, season and safety conditions).

• Simulation programs for students may also be included based on time allotted for our visit(s). We've done multiday visits with one local school (GMVS) during an extended thematic study unit. An educator workshop was provided with continuing online support as we worked with the team of educators for advance planning for this special event. We even did the outdoor component during a major winter storm. It was so successful it was repeated the following year (without the storm, but abundant February snow coverage).
• We love our "repeat schools" and are always open to adding new schools. References can be provided.

"MEET THE DOGS"— "EVERYTHING BUT A RIDE"

• We were hoping to offer dog sled rides again this winter (2009-2010), but it is not possible due to a series of dog related events. However, there is good news. We will continue to offer the fun experience "Meet the dogs --"Everything But A Ride", just as we did last winter where we meet you at a scenic trail. The schedule will vary —some days, morning and afternoons will be available. Rates are the same as last year. Please see the web page for details and a reservation form. Please be sure to read the "Everything But A Ride" page for this year's current information.

• The information on our web page dated "2007-08" is not correct for this year but remains available as it has some helpful background information. We'll add an update on our website if things change.
WHY NO RIDES IN THE DOG SLED?

With the economy and recession as it has been, Red and I both had to put in as much time as possible with our "non-dog" jobs to keep the cash flow going for the dogs and normal household expenses, so training time was insufficient and not what we wanted or needed. The rain and mud didn't help. Even worse, and far more significant, we lost two more dogs. We knew we had to decide on the difficult, correct thing for both of them, but it is never easy and it only seems to get harder. Woody left our lives in mid-April 2009 as a retired senior at age 13.8. The following month, we found a tumor on our treasured Frankie (a strong lead dog). After surgery she was fine and happy but eventually developed odd symptoms. She was diagnosed with adrenal problems and finally with an inoperable pituitary cancer that was the ultimate cause of all the problems. We refused to have her suffer at all, so did right by her on Nov. 2. We're still devastated and mourn the loss of both Woody and Frankie. For those of you who met or knew them, we're sorry to share this news. (The funny and happy stories capturing Woody and Frankie's personalities will be posted on our web site.) As if that wasn't enough, with the economy as it is, affecting both Red's and Gail's multi-year, fun, non-dog jobs, we do not yet see adding more dogs anytime soon. We remain committed to doing right by our canine family and will only take on as many dogs as we can properly care for, which they deserve for all the joy and love they bring to our lives.
JOIN US THIS SEASON

• We know that time spent with our dogs is the best medicine for all souls and spirits, so we welcome you to meet our dogs and share the fun we have with them. We're happy to have you join us this holiday season. "Meet and Greets" for children, via our "Everything But the Ride" offering is a great way for your kids to be introduced to the wonderful world of sled dogs. Fun for adults, too!

• We frequently receive requests from repeat guests who enjoyed last year's visit, are returning to the Valley for skiing and want more time visiting the dogs. We enjoy renewing friendships we've made through the dogs.

• Advance reservations are required for our planning purposes.

• Email is usually the best way to reach us to start the reservation/inquiry process. We're busy, but not too busy for you. If you phone us, please help us conserve costs by leaving us an email address or the best time to contact you by phone.

• If you're staying in the Valley, give us a land line number and the name of the lodging establishment, condominium name and unit number or local family name. (Your cell phone service might be spotty due to the mountains, so ask locals for the "sweet spots".)

• We will get back to you—and as fast as possible with our many winter chores and busy schedules. (Dog chores for the outdoor kennel: fresh water, scooping poop, feeding dogs, massaging and playing with dogs, health checks, grooming needs (eyes, ears, nails, feet, teeth), shoveling snow, scooping poop, vacuuming dog fur in the house, training dogs, shoveling kennel doors and dog yard, checking trail conditions, checking/ repairing dog yardfencing and doors, hauling and replacing water buckets again, chopping ice layers to get to water, dinner for dogs, washing dog bowls and buckets, scooping poop, shoveling snow, vacuuming dog fur in the house, checking and repairing all dog powered sports gear and equipment and.... Additionally, in between the "dog time" as well as late night or pre-dawn emailing, we take care of the communication for inquiries and reservations, hauling wood for heating the house, and the list goes on.... Life is full and never dull--which is how we like it. We hope to hear from you about scheduling a time for your fun with our dogs. It's fun for us, too!
Enjoy the season, the snow is great, the air is crisp and the clear nights are spectacular!
Gail and Red
Atii Sled Dogs
Mad River Valley (home of Sugarbush Resort & Mad River Glen for skiing--and much, much more!)
PO Box 550, Moretown, VT 05660

email: AtiiSledDogs@madriver.com
phone: 802-496-3795
(No calls after 9:00 pm ET, please. Email only after 9pm. It might be an early night of needed sleep after being on the dog trails all day.)
---
The information below is not all correct for 2009-2010 but is kept here because it has some interesting information. See the current 2009-2010 pages for information on Everything But A Ride, Skijoring, or Educational Programs.
December 21, 2008 Winter Update
Think snow for this winter! Lots of snow is on the ground here at the house and kennel! It's a true winter wonderland on this first day of winter. Happy Solstice!
We will definitely be offering skijoring lessons for the skilled x-c skiing guests who come with their own "pulling" dog. This is for folks who want to learn how to train their dog to do this sport.
We will also definitely continue to be offering our educational programs for schools, winter festivals, and other public groups.
We were hoping to again be offering dog sled rides for 2008-2009, but it is not possible at this time. We will continue to offer our "Everything But A Ride" but we have made some changes for this year. The information below for 2007-8 is not correct for this year. We have kept it here because it has some background information, but please see the "Everything But A Ride" page for this year's information. We'll add an update here if things change.
We are both working hard at our other jobs and training time has not been abundant. (It would be nice if sled dogs were more than fun and an occasional supplement to help pay for dog food, but it is not.) In addition, despite adding to our kennel, we still have a shortage of working dogs, and with the economy looking as bad as it does, we do not see adding more dogs anytime soon.
New Kennel Additions
We now have 10 dogs: 7 potential working dogs (Ilyaga, Frankie, Flip, Preston, Elias, Osceola and Touvik); 2 retired seniors (Weasel and Woody); and 1 very young puppy (Nahanni).
Despite the economy, but after much discussion, we have adopted two older, sledding-trained, experienced Siberian Husky sled dogs, Osceola and Touvik. These are gorgeous males from mushing friends in New Hampshire who have wonderful bloodlines that we like and admire. Osceola and Touvik are settling in well with the two-legged family as well as the "furry, four-legged family" at our home.
Future Sled Dog In Training
Gail's October birthday present from Red was a 10-week old pup we've named Nahanni, which means "spirit" in the Far North language of the Tlinget. She does have great spirit, is very smart, sweet, cute, cuddly, and loves kids, adults and other dogs. (Our house cat is still training her, but it looks promising.) She's also very fast when running about! But that's no surprise as her bloodlines come from incredible dogs with great brains and bodies for running and working in harness as well as wonderful temperaments and dispositions. We're very excited and honored to have been selected to have this promising pup join our family!
You'll see Nahanni with us as she continues to be socialized, trained for obedience as well as sled dog commands, and is introduced to the big world and local trails. She won't become a member of the working team until she's almost a year old, but she'll be traveling with us to watch and learn, get comfortable with the equipment, visit any school groups we work with, etc.
Kennel Losses
It's been another tough time for us, to be expected as the dogs age, but it's never any easier--just more sadness and pain for us. The dogs are our family.
We lost our very sweet, gentle and patient senior male Dolby this June. We adopted him when he was 12 when mushing friends moved to the Yukon. He bred our girl Frankie and we kept 2 pups, Preston and Elias. (Elias looks just like Dolby!) Sadly, Dolby passed on at (almost) 16. Among many other wonderful traits, he will be remembered for his most unusual voice and tell-tale "ARK!"
For those who knew him, we very sadly share news of the recent passing of our beloved Dawson. He was the "poster dog" featured in all the Waitsfield Sled Dog Race collateral at the turn of this century. He truly loved all the school kids he met. He made it past his 14th birthday, lived a very active, full, happy, wonderful life making every day of our lives with him pure joy. He was an exceptional dog and companion, indoors as a house dog, loose in the car with his head on the driver's left shoulder, and outdoors having fun. Dawson will forever be in our hearts and minds as we now venture down the trails without him. We miss him more than words can say.
And so the circle of life continues here at Atii Sled Dogs.

Atii Home · Dog Sled Rides · 2009-2010 Rides Update
Rates for Rides · Skijoring Lessons · Skijoring Rates
Equipment · Educational Programs · About Us
Atii FAQ · VSEP/Space Lady/Atii Home

Atii Sled Dogs
Mad River Valley · PO Box 550 · Moretown, VT 05660
Phone: 802-496-3795 · Fax: 802-496-3765
atiisleddogs@madriver.com
www.AtiiSledDogs.com
All photos, art & content copyright © 2003-2010 Atii Sled Dogs
All rights reserved.
No photo, drawing, or text may be reproduced in any form without written consent.
Written consent is necessary before linking this site to yours!
Please send your requests to:
AtiiSledDogs@madriver.com or
Atii Sled Dogs, PO Box 550, Moretown, VT 05660
This page last updated Jan. 8, 2010.