These are the dogs that have gone away in body,
but will always be in our hearts.
Part of the contract humans have with dogs is that we will feed them, we will shelter them, we will take care of them. In turn they will work for us, they will love us. What cannot have been in the contract when it was written was how much we would love them and how hard it would be to say goodbye.
---

Ginger
Gail's first and only childhood dog. She was in the family for only a short time as Gail's brother was allergic. Known for eating crayons, which makes for colorful poops.
---

Cody
Red's wonder dog. Exceptional frisbee player and coconut maniac.
---

Kit
Teacher that Siberians will run away no matter what you do or how much they love you, and get themselves killed.
---

Kiska
4/21/1984 - 9/19/1994
Kiska, named after Mt. Kiska in Alaska, was Gail's first puppy--ever. Throughout her life, Kiska taught her human MANY things about Siberians, dog care, obedience training, and sled dog training for skijoring. Kiska was a great companion with no end to her love and devotion. Always eager to please, but she was also a perpetual escape artist always trying to go for a run (and sometimes getting into "mischief")! Because of Kiska, Gail continued to learn and love adventuring with sled dogs--and stayed with Siberians. Winter bushwhacking adventures through the woods with Kiska are forever in my soul.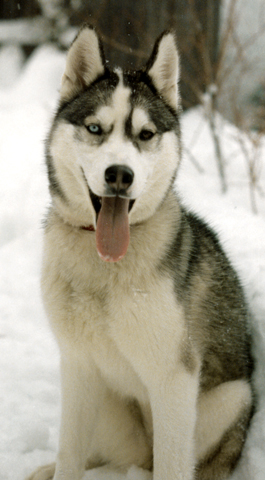 ---

Shami
6/24/1996 - 12/1999
(We were too distraught to even write down
the day of her passing.)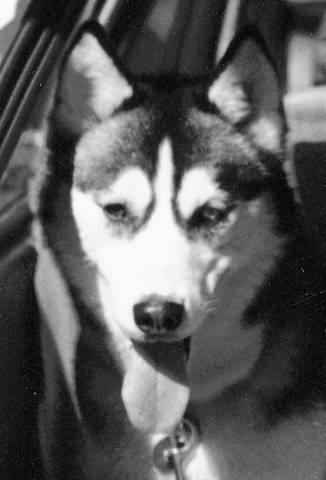 ---
Laska
1/21/1998 - 3/21/2007
A big boy with an even bigger heart that gave out way too soon and who had the loudest bark in the World.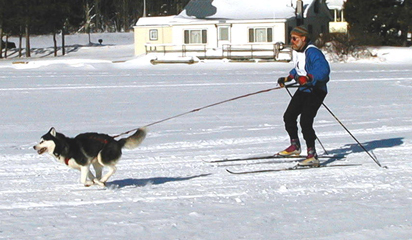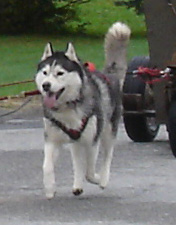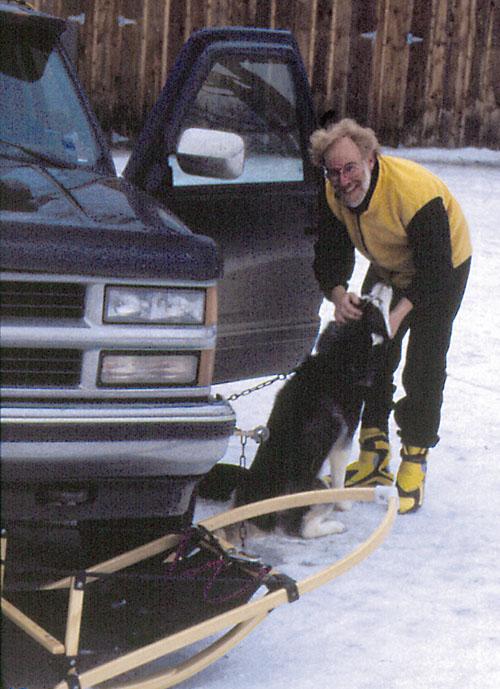 ---
Murron
9/22/2001 - 6/1/2007
The sweetest dog you ever met. She never met a pet she didn't like and she liked to steal kisses.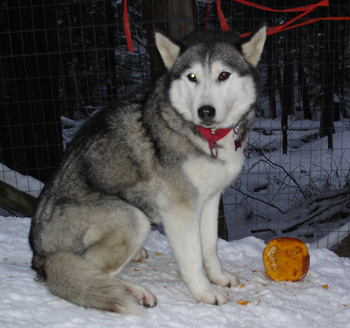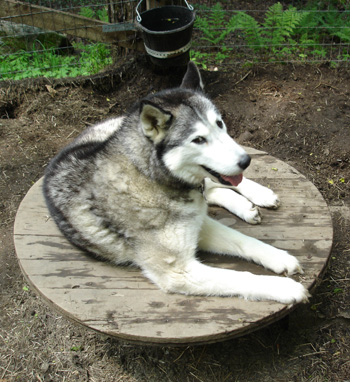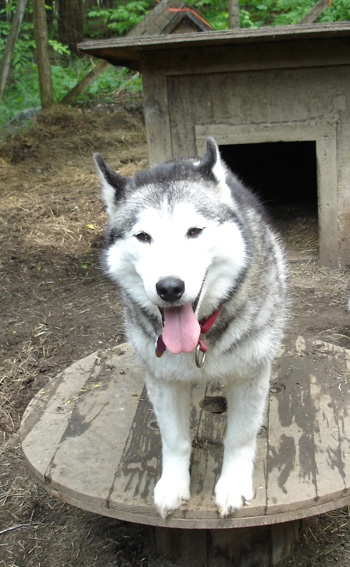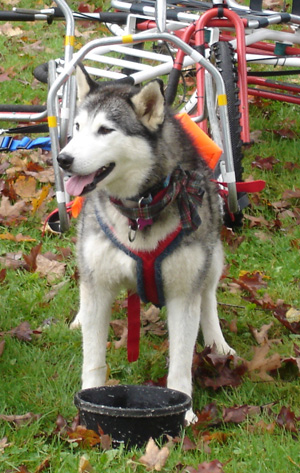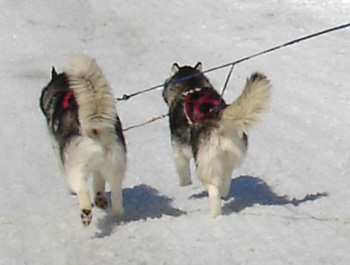 Laska and Murron
Best Friends & Kennel Mates Together Again
---
Dolby
7/25/1992 - 6/6/2008
He came to us at 12, gave us 2 pups,
and left us at (almost) 16.
"ARK!"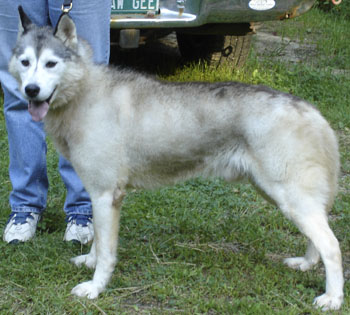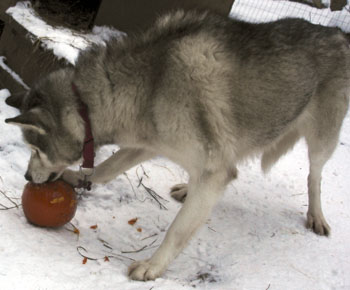 ---
Dawson
8/12/1994 - 10/7/2008
All dogs are good dogs, each in their own way, but some are better. Dawson was one of the best, indoors, outdoors, everywhere.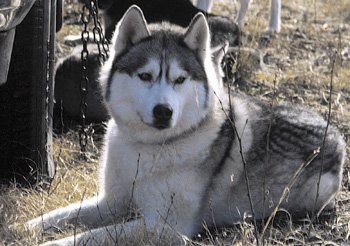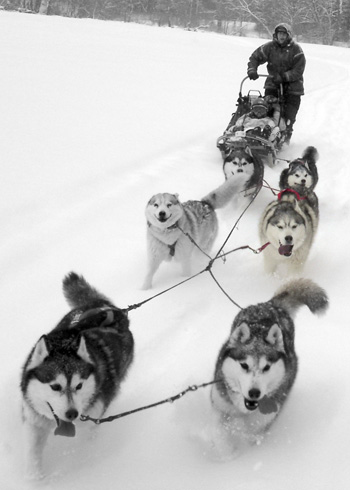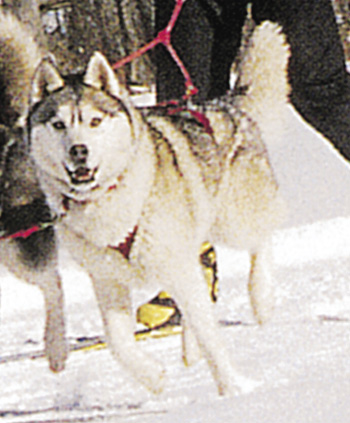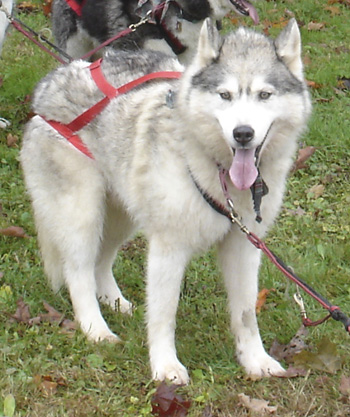 ---
Woody
Ch. Ripanco's Believe It Or Not
8/22/1995 - 4/18/2009
A show ring champion who, for us, was the hardest working wheel dog ever. He "screamed" to pull.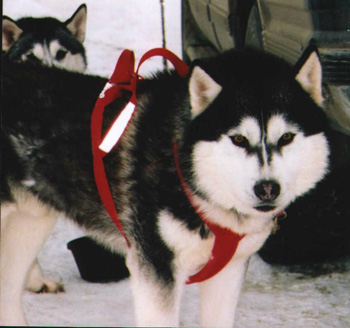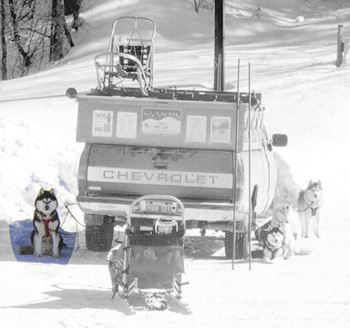 ---
Frankie
3/29/1999 - 11/2/2009
If she could have stood still, she would have been an AKC Champion; but if she could have stood still, she wouldn't have been Frankie.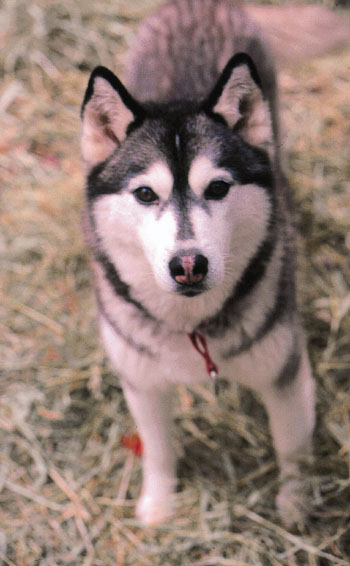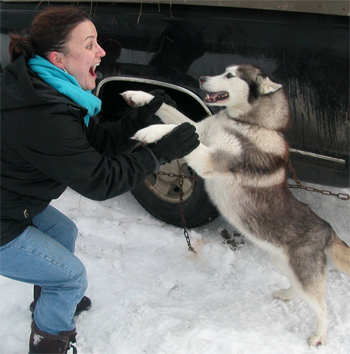 ---
Weasel
Kimlan's Kara Lynn of Ripanco
Dec. 28, 1993 - Jan. 9, 2012
She came to us when 9 mos. young and made our lives all the better because of her. Thank you!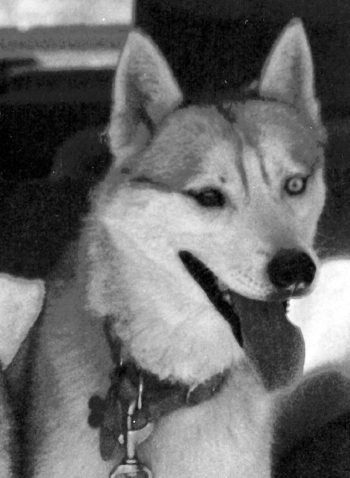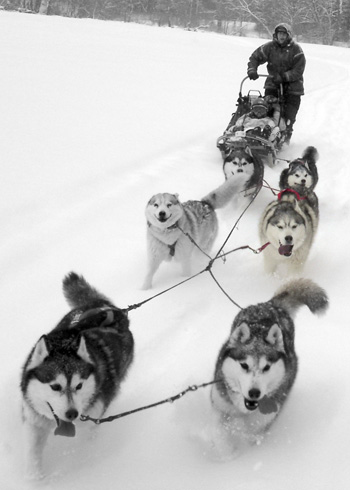 ---
Demavand's Osceola
May 12, 2000 - August 6, 2013
Oscie came to us for the second phase of his active life, when he was 8 years of age: happy, healthy, loving with a great attitude and lots more time and miles to spend on the trails. He was no longer fast enough to remain on the competitive "A team" as a "racer" as in his previous years and since I was no longer racing that was fine.
Thank you Gail Castonguay, Kim Berg and Kelly Berg for the joy, love and fun we had with Oscie in our family for the past 5 happy healthy years of his life. Thank you for raising, socializing, loving and training him and all else you provided and did to make him such a great, happy, loving, well behaved "easy keeper"--on and off the trail.
Rationally, I know he had a good, long, adventure-filled, happy, active life in all the seasons--with all of us--but that didn't make it any easier to say farewell to him.
Osceola was as strong as his name--and he is leaving as deep a hole in my heart as he did in the snow that he loved and frequently preferred to sleep in.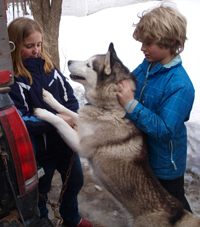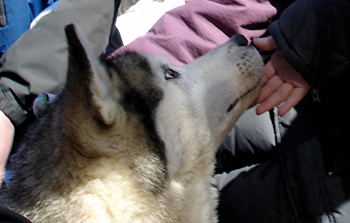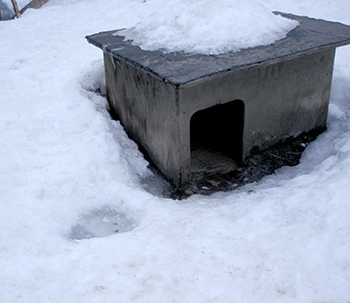 ---
Ilyaga
Ripanco's Atii Ilyaga
(Inuit translation of her name: "Let's Go My Friend")
May 20, 1998 - April 7, 2014

How do you say goodbye to a beloved, best buddy and constant companion? Not easily--and with tons of tears.

Rationally, 16 years is a long time and a long life for a Siberian Husky (or any dog). Emotionally, it's still not enough time.

Ilyaga was literally "the little engine that could"--and did.

The offspring of Ripanco's Nexie x Bear (thank you again and again and forever, Andy!), she was an incredibly special dog. A small but sturdy, well-built dog who still met the standards--with a gorgeous head and mask, bi-eyed with a parti-eye. A great lead and command dog--and wheel dog or team dog--or solo skijoring dog--at only 35 pounds--but with a bad lead dog habit that I couldn't break no matter what I tried. She'd grab her running mate's ruff and give it a shake if the dog wasn't going fast enough or where she wanted it to go--even during a race--or in a curve of the trail during the race. And no dog challenged her about that--so the habit persisted.

She had enormous "heart", drive, energy and desire to pull and work--in any position along side any dog of any size. Incredibly sweet with a big, deep "grrr, grrr" conversational voice along with her kisses and affection for everyone she met. She was a great "school dog" and loved doing "meet and greets" and presentations and crowds. Nothing fazed her. She loved all the attention and affection she got from anyone she met anywhere.

She somehow miraculously recovered from a stroke a few months ago and was still pulling and trotting (for very short distances from the house to the dogyard to visit other dogs or just spend some time outdoors enjoying the snow and sunshine). She pulled and happily walked or trotted (while leashed) to wherever she wanted to go--right up to the next to last day of her life--until she had a massive stroke event that put her in a coma and unresponsive in the wee hours early Sunday morning. There was no coming back from this episode this time.

She was an amazing bundle of joy and love, leaving a huge aching hole in my heart--but I am also filled with gratitude and an abundance of happy memories that will have to sustain me in her absence.

Van Morrision's "You Steal My Heart Away"!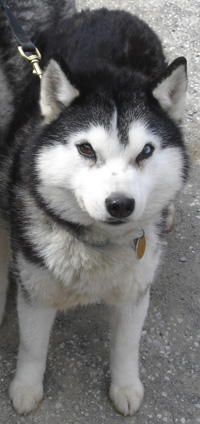 ---
Atii Home · Dog Sled Rides · Rides Update
Rates for Rides · Skijoring Lessons · Skijoring Rates
Equipment · Educational Programs · About Us
Atii FAQ · VSEP/Space Lady/Atii Home

Atii Sled Dogs
Mad River Valley · PO Box 550 · Moretown, VT 05660
Phone: 802-496-3795 · Fax: 802-496-3765
atiisleddogs@madriver.com
www.AtiiSledDogs.com
All photos, art & content copyright © 2003-2008 Atii Sled Dogs
All rights reserved.
No photo, drawing, or text may be reproduced in any form without written consent.
Written consent is necessary before linking this site to yours!
Please send your requests to:
AtiiSledDogs@madriver.com or
Atii Sled Dogs, PO Box 550, Moretown, VT 05660
This page last updated Dec. 21, 2008.